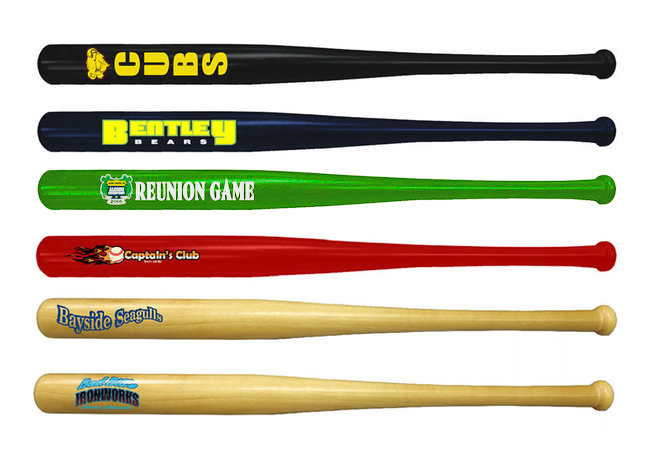 Made in the USA
Minimum Order: 50 Mini Bats
Lead-Time: 7 days after approval
Virtual Sample: FREE
Bat Length: 18 inches
Printing Area: 4¼"W x ¾"H
18″ MINI BASEBALL BATS
Item Number: BAT
18″ Natural Wood Mini Baseball Bat
Item Number: BAT-C
18″ Colored Mini Wood Baseball Bat
Bat Colors: Black, Blue, Red, Green and Navy
| | | | | | | |
| --- | --- | --- | --- | --- | --- | --- |
| Item | Description | 50 | 100 | 250 | 500 | 1000 |
| BAT | 18″ Mini Baseball Bat | 6.52 | 6.49 | 6.03 | 5.92 | 5.85 |
Printing Set-up: $34.00. One color only.
Second Side Imprint: Add $0.33 per piece.
Pantone Color Match: Add $47.00 per color. An exact match cannot be guaranteed.
Unimprinted: $4.21 each.
Packaging: Packed in bulk.
These promotional mini baseball bats have a minimum order of 50 bats. All bats are made from wood and manufactured in the USA. Pricing varies based upon the item number and quantity. These 18 inch mini wooden baseball bats are great for promoting sports teams, businesses, schools and special events.
Send an email to the Sales Department to request a free virtual sample to see what your baseball bat will look like.